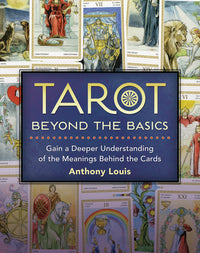 Gain a Deeper Understanding of the Meanings Behind the Cards
Take your tarot reading to a higher level. With an emphasis on tarot's astrological influences and a number of detailed sample readings, Tarot Beyond the Basics shows the way to becoming an advanced practitioner. Here, Anthony Louis shares how-to instructions for working with reversals, number symbolism, intuition, the four elements, and the philosophical roots of tarot.
Explaining astrology for tarot readers clearly and in a way that makes sense, Louis shows how to use the tarot to give powerful readings that change people's lives. The "real" tarot exists in the mind of each reader and is interlaced with his or her stories and experiences. The abundance of knowledge presented in Tarot Beyond the Basics is sure to make your readings come alive with meaning and significance.