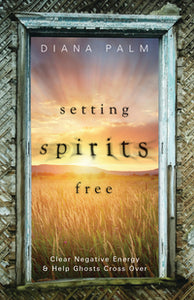 CLEAR NEGATIVE ENERGY & HELP GHOSTS CROSS OVER
Discover how to send noisy, energy-draining spirits into the healing light. With this demystifying and engaging guide, you'll understand everything about the spirit world and how to clear unwanted hauntings from your life.
Through meditation practice and simple instructions, learn how to alter your brain wave frequency in order to safely clear unwelcome energies. Author Diana Palm recounts her own paranormal encounters, providing an up-close look at a wide range of hauntings: lost souls, loved ones in spirit, possessed vehicles and objects, spirits in disguise, demons, and more. Distinguish ghost imprints from intelligent spirits, protect yourself from spiritual attack and possession, and use Theta Healing to put ghosts at rest. Setting Spirits Free also features information on energy vortexes, environmental causes of hauntings, paranormal investigation equipment, and tools for spirit communication.