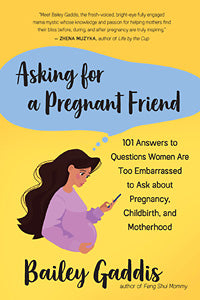 The Straight Scoop on the Questions That Make You Blush

Why do I feel turned on when breastfeeding?
Could an epidural paralyze me?
Am I awful for feeling sad my baby isn't the sex I'd hoped for?

In this comprehensive new book, doula and birth educator Bailey Gaddis offers frank girlfriend talk and expert advice about pregnancy, childbirth, and early motherhood. During her own pregnancy, Bailey had many unanswered questions she felt were too taboo or embarrassing to ask. To help other women have a more informed, less cringey experience, she went on to train as a birth professional, and her work has inspired this book. Bailey consulted with medical experts and psychologists to ensure accurate answers to the featured questions, and she presents her sought-after expertise to you with thoughtfulness and humor. Her accurate, nonjudgmental answers to even the most embarrassing or scary questions will help guide you through pregnancy and the first weeks of motherhood with greater calm and confidence.