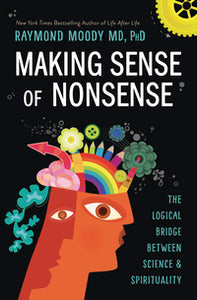 THE LOGICAL BRIDGE BETWEEN SCIENCE & SPIRITUALITY
What do the whimsical writings of Dr. Seuss have in common with near-death experiences?
The answer is that nonsense writing and spiritual experiences seem to defy all logic and yet they both can make a powerful personal impact. In this book, New York Times bestselling author Dr. Raymond Moody shares the groundbreaking results of five decades of research into the philosophy of nonsense, revealing dynamic new perspectives on language, logic, and the mystical side of life.
Explore the meaningful feelings that accompany nonsense language and learn how engaging with nonsense can help you on your own spiritual path. Discover how nonsense transcends classical logic, opening the doorway to new spiritual and philosophical breakthroughs. With dozens of examples from literature, comedy, music, and the history of religion, this book presents a unique new approach to the mysteries of the human spirit.