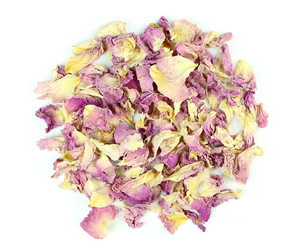 Roses have been valued for their beauty, fragrance, and healthful properties for hundreds of years. The flowers can be employed to make creations from rose water to fruit jams. Our pink rose petals are harvested from organic Rosa canina plants and carefully dried. Dried rose petals can be used to make potpourri, floral vinegars, and other topical applications. Pink roses can also be added to herbal teas, botanical bath blends, and floral body sprays.
Precautions
No known precautions. We recommend that you consult with a qualified healthcare practitioner before using herbal products, particularly if you are pregnant, nursing, or on any medications.
This information has not been evaluated by the Food and Drug Administration. This product is not intended to diagnose, treat, cure, or prevent any disease. For educational purposes only.