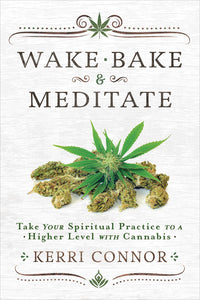 TAKE YOUR SPIRITUAL PRACTICE TO A HIGHER LEVEL WITH CANNABIS
Elevate Your Spirit with Cannabis
Wake, Bake & Meditate is a guide to using cannabis to enhance your sense of spirituality. Whether you want to use cannabis to have peak experiences, find your bliss, send healing energy into your body, or make contact with the divine, author Kerri Connor provides easy step-by-step instructions to show you how.
These accessible guided meditations provide transformative experiences whether you're just beginning your spiritual journey or have been practicing for years. In this book, you will discover helpful strain recommendations for specific intentions as well as tips and advice for getting started as a solo practitioner, with a partner, or in a group setting.
Wake, Bake & Meditate also includes recipes for cannabis-infused dishes and drinks that support spiritual and emotional elevation. No matter where you are on your path or what your spiritual goals may be, the techniques and meditations in this book will uplift your soul.