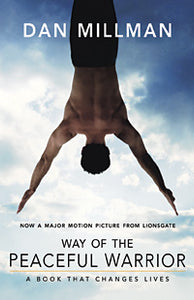 Dan Millman's Way of the Peaceful Warrior has become one of the most beloved spiritual sagas of our time. Shared among friends and families, this two million-copy word-of-mouth bestseller has inspired men and women of all ages in twenty languages worldwide.

After 18 years in print, Millman's story came to the big screen as Peaceful Warrior, a major motion picture from Universal and Lionsgate. Written and directed by Victor Salva, Peaceful Warrior stars Nick Nolte (Hotel Rwanda, U Turn), Scott Mechlowicz (Eurotrip, Mean Creek), Amy Smart (Just Friends, The Butterfly Effect), and Ashton Holmes (A History of Violence).

Despite his success, college student and world-champion athlete Dan Millman (played by Scott Mechlowicz) is haunted by a feeling that something is missing from his life. Awakened one night by dark dreams, he wanders into an all-night gas station where a chance encounter with the enigmatic Socrates (Nick Nolte) starts Dan on a spiritual odyssey, which throws his perfect but shallow life into total disarray. With a unique blend of Eastern philosophy and Western training, Socrates' insight and wisdom help Dan recover from a devastating motorcycle accident and takes Dan on a journey that tests the limits of his mind, body, and spirit. Discovering that he has much to learn and even more to leave behind, Millman's story is a moving tale about the power of human will.

A classic tale, told with heart and humor, Millman speaks to the peaceful warrior in each of us and offers a chance to rediscover life's larger meaning and purpose. Journey with Dan on the peaceful warrior's path to unreasonable happiness. Find out for yourself why this book changes lives.


Includes a new interview with the author about the making of the film
Published in a Joint Venture with H J Kramer
Endorsements
"Remarkably wise, provocatively humorous, and hauntingly beautiful. . . . It may even change the lives of many who peruse its pages."
— Dr. Stanley Krippner, Institute for Humanistic Psychology
 
"A piercing and very lively book."
— Ken Dychtwald, PhD, author of Bodymind
 
"It is for me an important work of art and truth. It helped answer inner questions I've been battling for a long time."
— Laura Goad, Association for Transpersonal Psychology